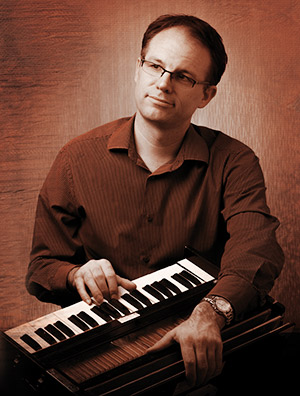 Sri Prahlada was practically born into kirtan and has been singing and playing kirtan across the globe since childhood. He developed his initial fascination with kirtan attending school at ashrams in Australia and India. A natural musical talent, at age 12 he won a recording contract with record giant EMI, releasing two singles and an album entitled "Through the Eyes of a Child". Sri Prahlada has performed kirtan in traditional, as well as rock and reggae styles before audiences of tens of thousands. Along with the likes of Krishna Das and Jai Uttal, he features in Steven Rosen's book 'The Yoga of Kirtan' which contains in-depth interviews with 20 western kirtan artists.
At age 15 Sri Prahlada took formal spiritual initiation into the Chaitanya Vaisnava tradition from Hridayananda dasa Goswami (Howard J. Resnick, Ph.D.) a world-renowned teacher of both Sanskrit and Indian Studies, who has translated numerous Sanskrit texts and has written many corresponding commentaries, essays, articles, and novels. Sri Prahlada has also been mentored by the renowned bhakti-yoga master Indradyumna Swami, traveling as his assistant, secretary, and lead kirtan singer, from age 15 onwards for about 18 years.
Now based in Sydney Australia, Sri Prahlada often performs with the five-piece band featuring the hypnotic harmonium, rhythmic bass and mridanga drum, melodic guitar, chiming karatals, and vocal harmonies. Sri Prahlada's heart and soul permeates every moment of every kirtan he sings, transporting his audience to the realm of spiritual consciousness.
Kirtan with Sri Prahlada involves:
Call-and-response chanting of mantras with musical accompaniment
Sharing stories and teachings from the bhakti-yoga tradition
Organize a Kirtan Event with Sri Prahlada at your Yoga School
Contact Dennyse
Phone: +61 (04) 01062812
Email: dennyse@bhaktiabode.com