What is it?
Forgotten Power is a spiritual awakening course that includes group kirtan sessions, which Sri Prahlada co-facilitates at different times during the year. The current intake is running from May 5th to June 9th, and will involve meeting each Thursday from 7-8 pm each week over six weeks. The venue is the Krishna Temple, 180 Falcon St, North Sydney 2060.
We have all contemplated at some time, how to be the best we can be for ourselves, our families, our communities, and even for the world around us. Forgotten Power will give you tools to overcome inhibitions or old habits that hold you back and keep you from fully participating in your ideal life.
Who is it for?
Forgotten Power is for anyone looking to take advantage of spiritual principles to deepen their happiness in life.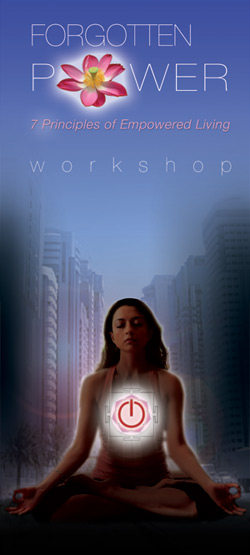 What is the course about?
The course is structured around Seven Powers as drawn from the spiritual teachings of India. These seven powers are…
• Self-Understanding
• Choice
• Balance
• Satisfaction
• Focus
• Purpose
• Sources of knowledge
It is conducted in a small group of no more than 8 people to keep the learning experience personally relevant to each participant.
Are there any course materials?
Participants will receive a ring binder with course notes and work sheets. By the end of the course, participants will have drafted their own unique personal development plan.
Who are the course facilitators?
Sri Prahlada and Bhrgu are the course co-facilitators. Sri Prahlada, has lectured on spiritual self development at venues including Wane State University, Pennsylvania State University, and Auckland University of Technology. Bhrgu works as a leadership coach and course facilitator in the National Australia Bank. In that capacity the bank flies him all across the country each week.
How much does it cost?
There is no charge, nonetheless, participants are welcome to give a voluntary donation to cover expenses including course materials.
How can I enrol?
To enroll in the course you should express your interest by filling in an enrolment form. Due to the limited number of places, not all applications are accepted. Successful applicants are determined based on the submitted details of a participant's commitment to personal spiritual development.
[button_with_link url="http://sriprahlada.com/forgotten-power-application"]COURSE APPLICATION FORM[/button_with_link]
[hr]
Testimonials
Thank you for your workshop. I love the way the course was geared to people who were advanced spiritually as well as the beginner. That's a gift.
Caterina Hemmandez – Yoga Teacher
[hr]
All aspects were valuable, I especially enjoyed the group discussions. Most valuable was the "self" aspect and I will be going further into that.
Samuel Testa – Australia Post employee
[hr]
This knowledge I can recommend to my friends and clients with confidence. The exercises stimulated reflection.
Ashraya – Massage therapist, Ayurvedic health practitioner
[hr]
I loved the whole packaging and use of media. The program was conducted in a small group but at the same time was self-motivating and self-focused.
Jayesh Jarka – University student
[hr]
Excellent, well done! I recommend this to anyone who wants to actively take control of their life!
Jitesh Harini – Computer programmer
[hr]
It was an interesting and informative course that helped to highlight how spiritual principles could be utilised in our daily lives to assist one to lead a more positive live, have a more happier/positive outlook on life. Overall, an excellent course, well organized and researched, will definitely recommend it to my friends.
Ganesh Vengadasalam – Road safety engineer
[hr]